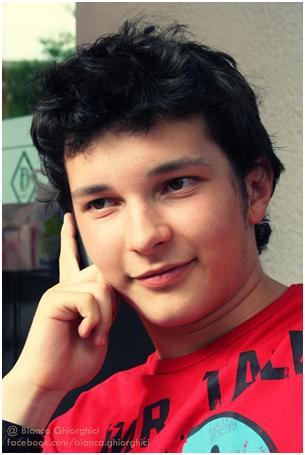 Life is like a story ,we are characters in it and we have to play our role.
What can I say about me ? I am in the same time a simple character in a simple story, my life and also a writer…I love to create stories everyday, every moment.
Sometimes I'm not entirely sure who I am from one moment to the next…maybe because I love to live in MY word…a word full of dreams.
I study Tourism,11Th grade  and I wish to continue abroad, in Switzerland.
Besides school I love to be involved in different activities like voluntariate…I can say I am a social activist.
For example I organize a project here in my town , named "Urban Readings" ,that promotes the act of reading in public places and aims at creating a new way of contributing to the well being of the community. So, this is one of my stories about books and people.
I have a wonderful family and we love to spend our holidays in different locations and share special moments.
Of course, I have many friends because in my opinion friendship is the most wonderful relationship that anyone can have…is like a treasure. And friends…friends are the sunshine of life.
Short about me: full time student ,part time dreamer and eternal sweets lover.
I am impatient to be one of the characters in this "youth exchange" story.