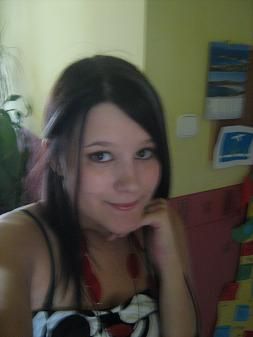 Hi my name is Lili Késmárki!
Im 16 years old and I live 35km from Budapest with my parents, my two little brothers, my two cats and my cute dog. I love Budapest and I can go there from home within 45minutes, so I spend most of my freetime there.
I love music! My favorite band is Placebo. Usually I listen to rock music, but because of I love dancing I like pop, dance, rnb, reggae, ska, and other kinds of music, too. In the past I also tried playing the guitar, but Im a bit impatient so Im not too good at it. :D
I also love doing creative things (painting, scrapbooking, doing some handicraft thing,...) and because of that I usually give handmade gifts to people.
Other freetime activities I often do: being with my boyfriend, going to concerts/partys, reading, shopping, singing, hanging out with friends, sleeping, travelling,...
In school my favourite subjects are english, french and psychology.